Shipping Policy
Shipping Policy
NOTE: (edited 9/21/21) Unfortunately, we are currently unable to ship consumer orders to the UK due to import restrictions related to Brexit. We apologize for the inconvenience. We are working on a solution. In the mean time, we are able to ship to our distributor, Esdevium. This means that any local game store should be able to special order any of our games for you. In addition, BoardGameExtras.com carries many of our promo cards as well as games and expansions. Try searching for "Fluxx" to see what they have available.
We usually ship every day, but it may be a few days before your order is processed to ship from our warehouse. We ship out of a warehouse located near Burlington Vermont, USA.  
If you need your order by a certain day, be sure to mention it in the Special Instructions. Feel free to contact us to find out for sure which day your order is expected to ship.
An email confirmation will be sent when your order ships.
Shipping Options 
1) Standard Shipping -  to addresses within the USA
We will ship your package via our choice of USPS
First Class, USPS Priority 
Mail, or UPS Ground, depending on the weight of the package and the most 
reasonable method for delivery to your location. The vast majority of 
orders are shipped via the US Postal Service, for which there is limited 
tracking capability. Please contact us if you need tracking information for 
your shipment.
It is mostly larger orders, shipping across the country (to the west coast) that are
 likely to ship via UPS Ground. For your general information, here is the 
UPS Ground Time-in-Transit Map from our warehouse. USPS orders should 
take 
a similar amount of time, if not significantly less - but don't forget to factor in a few 
extra days for the fact that we don't ship from our warehouse every day.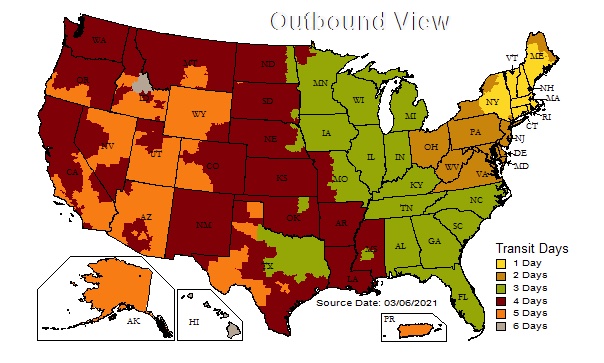 Note that these are approximate times.
2) Express Shipping
- to addreses within the USA
We ship from a warehouse near Burlington Vermont, so before you decide to pick expedited shipping, you might consider whether it's really needed. We offer UPS Next Day Air, UPS 2nd Day Air, or UPS 3 Day Select to most areas (3 Day does not go to Hawaii). Also remember that UPS cannot ship to post office boxes, so be sure to provide a street address for expedited orders.
Please keep in mind that picking express shipping does not necessarily mean your order will ship out the same day, or even the next, just that it will ship express when it ships. If you need your order by a specific date, please be sure you mention it in the text comments.
Please visit the UPS web site for more information and to
Calculate Time
. We ship from zip code 05495.
3) International
 -  to addresses outside the USA
If you want to see what it will cost to ship your order, put it into our 
shopping cart, and enter your address information. If the amount is too 
high, you don't have to finalize the order. Consider saving on postage by 
putting together a group order with friends, to spread the cost of shipping 
over more items.  Also consider your local import duties which may kick in 
on larger orders.
We send international packages through the United States Postal Service. 
They ship it to your national postal service, who then sends it to you. Our 
ability to track these packages is extremely limited. Delivery times range 
up to several weeks depending on the destination; we appreciate your 
patience.
Your package will go through your country's customs office (which can 
take 
some time) and you might have to pay additional import taxes and fees. 
Customs needs to see the value of the goods being sent, which is why 
we 
cannot hide prices for international gift orders. We are unable to mark 
shipments as anything other than merchandise on customs forms. Sorry!
Shipping to BRAZIL -- 

Effective Jan 1, 2020, all shipments to Brazil must include the recipient's Tax 

Identification (ID) number on customs declarations and shipping labels. 

 Please include this in the Special Instructions on your order.

Any shipments missing the recipient's Tax ID will be subject to return, or even disposal, by Brazilian Customs.

There are several different Tax IDs that can be used when shipping to Brazil, including:
  ·    CPF - Individual Tax ID, similar to U.S.A.'s Social Security number
  ·    CNPJ - Business Tax ID
  ·    Passport Number
4) International Express 
- to addresses outside the USA
We now offer USPS Express Mail shipping for international orders. 
You can 
use the calculator here at the 
USPS website
 to estimate
how long it will 
take for your package to arrive.
Please keep in mind that choosing express shipping does not necessarily 
mean your order will ship out the same day, or even the next, just that it 
will ship express when it ships. You are responsible for any import taxes 
and fees, and the time calculated by the USPS does not include time that 
your package may remain in your country's Customs office.  Express shipping 
often requires a signature as well, and may be rejected and returned to us 
if your delivery person cannot connect with you.
2022 - Date Guideline for Ordering around the Christmas Holiday:
For your order to be delivered by Saturday, December 24th by each of the following methods, you need to order from us by:
Standard USA Shipping - Monday, Dec. 12th by 11 AM Eastern
UPS 3 Day Select - Tuesday, Dec. 15th by 11 AM Eastern
UPS 2nd Day Air - Monday, Dec. 19th by 11 AM Eastern
UPS Next Day Air - Tuesday, Dec. 21st by 11 AM Eastern
Canada and most other international - Tuesday, November 29th, by 11 AM Eastern
Africa, Central America, and South America - Monday, November 21st, by 11 AM Eastern 
Note: These dates are not guaranteed.  These are just estimates based on information from the USPS and UPS websites.
Orders that choose "Standard Shipping" or "UPS Ground" will likely take a few days to leave our warehouse. Orders that choose express shipping options, but come in after 11 AM Eastern, won't ship the same day, but we will try to get them out the next business day. 
Please take this into account when choosing your shipping method.